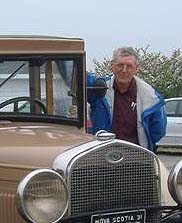 THE ARDNAMURCHAN WOODY
[2000] by Laurent d'Entremont (picture top right)
Story was published in Vanguard first and in car
publications both in Canada and the USA....
---
The 1940's and 1950's were a great time for some of us "to be" car guys, as the golden age of motoring was not quite over yet. Every summer we would get a casual parade of American cars that shared the roads with fish trucks and ox carts of the times. Most of these American cars bore names like Packard, Studebaker, and Desoto and would wear enough chrome to sing the proverbial battleship. One of these automobiles lasted longer than all the others and had been visiting and rolling on our Pubnico roads for half a century. It is the 1948 Dodge Woody Wagon belonging to the Ardnamurchan Club of Argyle, Yarmouth County.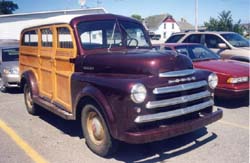 For a bit of history on this American owned institution, the Ardnamurchan Club was started about 1908-09, and the following information was taken from the book "Historical Sketches of Glenwood and the Argyles" by Jackson Ricker, first published in 1941 and again in 1994. It all began when Dr. and Mrs. William S. Clark of New York (grand parents of Michael K. Clark of Argyle) came to Nova Scotia with the idea of setting up a summer resident for family and friends. The Clarks had many relatives in the States all the way from Boston to Chicago who, unfortunately, they felt, did not see each other often enough. Forming the Ardnamurchan Club, chartered under the laws of Nova Scotia, made it possible for the large families to spend and enjoy their summer together.
Construction began and when completed the club's huge summer home resembling a western hotel of many years ago, had a ground floor with three bedrooms, four baths, a billiard room, library, dining area, pantry, kitchen, laundry room etc. There are three stairway leading to the first floor which has fourteen bedrooms, six bath rooms, closets, storage etc. the top floor has a large dormitory for men, a smaller one for children with bathrooms and showers. The complex also has many outer building like a boathouse, carpenter shop, blacksmith shop, and car garage etc. the property consists of about two hundred fifteen acres on the main land and five hundred acres of islands. At one time they did lots of farming, growing crops and keeping animals to provide for the summer families.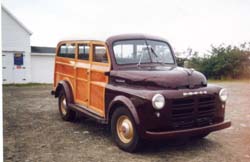 For amusement there are two tennis courts, some games are provided for the children, as well as water sports like sail boating, row boats, canoes etc. perhaps what this well organize club does most of all is to give an opportunity for growing families of club members to get to know and enjoy each other's company, while summering in Argyle. The last paragraph that the late Jackson Ricker wrote in his book is well worth repeating here: "The Argyles are to be congratulated on having in the personnel of the Ardnamurchan Club, a people of high moral tone and exemplary character, showing interest in the local churches, and all worthy community affairs. The contacts of more than thirty years, have, as the years have passed, resulted in strengthened friendship and goodwill".

Sixty years have passed since those kind words were written and very little has changed with the Ardnamurchan Club. Safety features like fire escapes have been added to the buildings, and of course the oil lamps have been replaced with electricity. Outside the cedar shingles have aged well and have not seen a drop of paint in ninety years. As this is a private club, with a driveway often protected with a wire gate, many of the local people are not familiar with the place, but very few are those who would not recognize their Woody Wagon as it drives by. Even those who are not the least bit interested in cars (sadly, there are people like that) would know the estate wagon belonging to the Ardnamurchan Club.

To transport visitors from the Boston boat or the train station, the club always had woody wagons, or depot hacks as they were called at an earlier time. The first estate wagons were from the Model T and Model A era, followed with a 1936 Ford V/8 which has survive and now belongs to a private collector. Their last wagon, the present 1948 Dodge six cylinders woody, has lasted longer than both the Boston boat and the train service, which ran from Halifax to Yarmouth. For the sake of reminiscing, it was sometime before my 10th birthday when I first saw this Dodge wagon. In summertime the Americans would visit our village, stopping at the older farmhouses, often looking for fresh milk or homegrown eggs. The ladies dressed in their best fashion, always kept a keen eye out for bargains, especially in Acadian-made quilts. With their sparkling wagon sporting blue fenders and hood, their fancy attire, and perfect English, they were a most impressive group of people much welcomed, as they are today, in our village.

As the years went by, perhaps the need for an estate wagon was not as great as in the early days, whatever the reason, they just kept the old Dodge wagon on the road summer after summer for fifty years. Time takes its toll and the old woody was not immune to its passage, the Nova Scotia fog ate at its fenders and sheet metal, while the sunny days took care of wood panels, which faded to the point where varnish was no longer of any help. As for mileage God only knew the correct mileage on this well-worn chassis. In other words this Dodge woody needed everything, and this past summer I was both surprised and elated to see the 1948 Dodge wagon restored to its former glory. It was just like when I first seen it fifty years ago.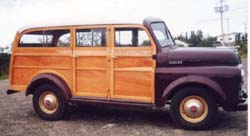 The restoration work on this antique vehicle was expertly done by Lindsay Van Merlin (Lindsay Surette) from the Pinkney's Point area of Yarmouth County. In a recent telephone conversation he detailed that it took six months of enjoyable labor to get the veteran vehicle to like new condition. The woodwork had originally been assembled by a New York coachbuilder much the same way that buses were assembled back then. The restorer replaced the ash framing and installed new mahogany paneling. A new top was custom made; white this time, to replace the former deep green topping. The chassis parts, fenders, hood, wheels etc. changed from the original blue to a burgundy color to do justice and show off the mahogany plywood. The chassis was also done over, a rebuilt engine, new brakes; a twelve-volt battery replaced the old six-volt system, plus a few items in the name of safety were added.

The 1948 Dodge Woody wagon, dating back to the days of ocean and train travel, is a rare one indeed, and can still be seen driving the summer people as it always did. Hopefully the Ardnamurchan Club's prize possession, a work of art, will be seen on our Nova Scotia roads for, many, many summers to come.
Laurent d'Entremont: laudent@hotmail.com
---
From: "Bruce Frost"
To: <laudent@hotmail.com>
Subject: The Ardnamurchan Woody
Date: Sat, 17 Feb 2007 20:52:49 -0600
Laurent, I Just read your account of the Ardnamurchan Woody on the Argyle website. It certainly brought back memories of the Argyles. I was born in Glenwood and brought up in Argyle at what used to be called Frost corner and as a boy saw the woody go by many times ferrying passengers from Yarmouth to the Club. I was pleased to here that it was still mobile (in 2000) and hope that it still is going strong. Thanks again.

---