My name is Samantha MacDonald I'm sixteen years old. I moved to Yarmouth, Nova Scotia when I was a month old and have lived here ever since. We built our house in Brooklyn on the Mill Road, which is a small road off the Hardscratch Road. I've lived in that house my whole life.
Brooklyn is a nice place to live. It isn't far from town, about a five- minute drive. Brooklyn isn't very big but we do have Yarmouth's S.P.C.A on the Hardscratch Road. It's a small S.P.C.A but it's the only one Yarmouth has. Brooklyn also a trailer park, which is also found on the Hardscratch Road. The trailer park has a lot of people living there, some of which are my friends. On the Hardscratch Road you can find houses along both sides; people live all along the Hardscratch Road but not one house is over forty years old, so Brooklyn itself isn't that old.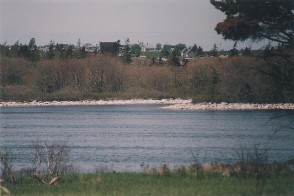 There are two car repair shops in Brooklyn, one on the Mill Road which mostly fixes up small vehicles, and another one on the Greenville Road which will fix up any kind of vehicle from rv motor homes to buses, trucks, and cars.
There is only one old house in Brooklyn. It is a small old building which was used as a one-room school house during the Second World War. The old school house was fixed up a few years ago and is now used for meetings. You can find the old school house on the Brooklyn Road near the Highway 101. It doesn't look old now because it's all fixed up like new. Brooklyn has two ice cream places, Rainbow Delight which only serves ice cream, can be found on the Hardscratch Road. The Old Mill is an ice cream shop and a small restaurant where you have to eat outside. It's only a small take-out but the food is good and quick.


The Airport is close to Brooklyn so planes always fly overhead and the fog horn can often be heard in the distance. In Brooklyn the forests are all around and you can find some trails on the Mill Road that are great for a nice hour's walk; and the roadsides are great for walking because you can enjoy the great view Brooklyn has of the countryside. At night you can either go for a nice walk or you can just step outside and enjoy looking at the stars in the clear , warm nights of Yarmouth. You can also enjoy watching the wildlife around Brooklyn. On the Mill Road you can find deer, rabbits, pheasants, raccoons, birds and much more. This is a quiet road and so wildlife can easily be found just by walking in the woods. There is no hunting allowed so there are a lot of animals. Brooklyn is great for just driving through. You can enjoy the scenery and all the nice houses. Brooklyn isn't hard to find and not far from town and you can get to any main highway from Brooklyn.
So overall I think Brooklyn is a nice place to live and raise a family.
Written ~1999
Return Yarmouth Villages