Chebogue Point
Yarmouth Co. Nova Scotia Canada
Chebogue Point is located at 43°45'41"N, 66°06'57"W in the Yarmouth
The most southerly point on land in Eastern Canada
Click on pictures for enlargement
NEW: They Came, They Saw, They Analyzed
| | |
| --- | --- |
| | If you follow the FISHERMEN'S TRAIL from Yarmouth you will come to a small sign that reads Chebogue point. This inconspicuous little road leads to an area that was historically very significant to the early colonization of the area. The area still is of importance for atmospheric studies and tourism. |

Greek Revival style church. This church was built in 1843 on the Chebogue Point Road. In early May of 1886, it was moved about a mile to its present site on the main road and "renovated and redecorated" by its members on May 6.
In the 1500ís European fur traders and fishermen visited the shores of South Western Nova Scotia and in 1604 explorers from France officially claimed and colonized this new land. Trading posts were established to pursue the fur trade with the native people; one such establishment, according to historical sources, was at Chebogue Point, Yarmouth County in 1607, where a colony of French Acadians later settled. (S)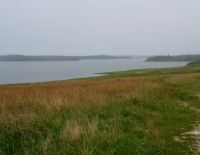 For such a small area there are some diverse habitats. The lake like area in the picture is sea water and part of the Chebogue river system. The aerial picture on the right is what this area will look like a few hours later at low tide. This may be a very tempting place to explore but is as dangerous as it is beautiful. In places the mud is almost like quick sand and it is easy to get overtaken by an incoming tide.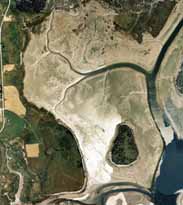 From an ecological point of view the area is of extreme importance to the fishing industry. Salt marshes and mud flats trap debris, such as seaweed. The material decomposes providing food for millions of lower tropic level organisms that provide the basis for many of the ocean food chains in the area. With 85% of historical Fundy salt marsh habitat lost and/or severely degraded it is important to protect those that are healthy. As you stand here at low tide the place may not smell to good but mother nature is conducting her "salt marsh symphony" and things are as they should be..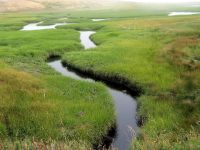 The Mi'kmaq gave it its name meaning "big marshes". There are 343 hectares (837 acres) of salt marshland along the Chebogue River beginning at Arcadia. Mi'kmaq stone tools, dating 5000 to 7000 years ago, were in the area. Samuel Champlain, on a map dated 1607, may have depicted Chebogue River with houses on both sides, this would make Chebogue the third oldest European settlement in Canada. (S)
| | | |
| --- | --- | --- |
| | | Geologically the area is composed of half slate rock and half glacial till, formed some 10,000 years ago when the glaciers receded. Some sections have very lush vegetation while other are somewhat barren resembling the moors of Scotland. The area below is composed of stunted spruce and shrubs. |
| The drive to lands end is brief,(~5km) so brief that if you have the time it would be best to walk it. | | |
| | | |
| --- | --- | --- |
| | | |
| | Wild Strawberries, Bayberry, Sea Rocket, and dandelions are some of the edible wilds that grow along slop of the upper sea shore. To the left a farmer takes advantage of a fertile piece of land near the warm asphalt surface. | |
Fishing and farming are the main industries in the Chebogue area.

The fog was gently covering the point. It was a beautiful day

The last house on the road.

Protector of the point.

Looking toward the tip of Chebogue point

Yea all come back
now you hear!
Randomly arranged links to topics related to Chebogue point.
I hope you have enjoyed this brief view of our area.
If you have any material or links that would enhance this or any
other of our villages pages we would be pleased to add them in.

Email address:webmaster@yarmouth.org
Or Write:
Godfrey J. LeBlanc
GrassRoutes Computer Services Ltd.
Box 167 South Ohio
Yarmouth, Nova Scotia, Canada
BOW-3E0

Phone (902) 742-3845

The following companies make our Yarmouth Villages presentations possible.