Little River Harbour
Home of
Nova Scotia Duck-Tolling Retriever
(Little River Duck Dog) (Yarmouth Toller)
---
Guest book comment
Date: 8/5/2004
Name: Jim Jeffery
Location: Elliot Lake, Northern Ontario
E-Mail: jcjeffery@unitz.ca

Comments: As many of your guests have said, you have a great www. Yarmouth county has a long and interesting history. One of it's accomplishments is the development of Nova Scotia,s Provincial dog. It is curious this is not important enough to include as a seperate item on your home page. I realize it's already quite busy, and the dog is covered on the Little River site but it is an accomplishment that anyone from Yarmouth county can be proud of. In the last 15 or 20 years, these little red dogs have found homes all over the world. You can bet that many want to know about the birthplace of the breed, and will be looking on the internet for Yarmouth. They will hit your home page first. Give them an excuse to surf the rest of your site. They may not know about Little River. I know one couple from Belgum has already visited Yarmouth specifically to visit the birthplace of their beloved Tollers. I took them out to visit Andy Wallace on the Richmond road, who hunts with these dogs.
---
The following businesses help make our Villages presentation possible.

---

<!C-----------------------------------------------"
Click on map below to see larger map of Yarmouth area
Little River Harbour Picture Tour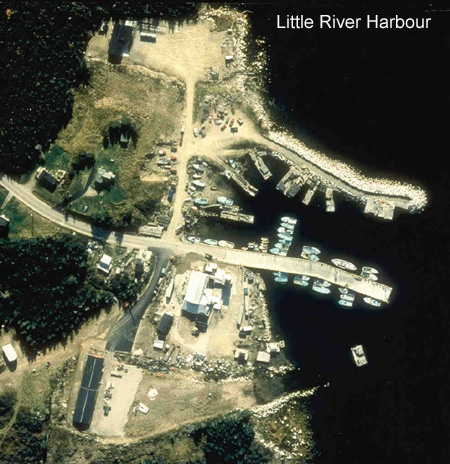 Picture Source
| | |
| --- | --- |
| | The Nova Scotia Duck Tolling Retriever is one of the smallest retrievers. Originally known as the Little River Duck Dog in its home of the Little River District of Nova Scotia, the modern Toller got its present name in 1945 when it was admitted to the CKC registry. The Nova Scotia Duck Tolling Retriever is a member of the gundog group. They were originally used for flushing waterfowl and retrieving game; today they are used as gundogs and as companions. Sensible and very devoted to its family. Intelligent, easy to train, and with great endurance, the Toller is a strong and able swimmer and a natural and tenacious retriever on land and water. Agile and alert, he is happiest while working. |
---
---
Little River Harbour Web Internet Search Results
If you would like to add content to this or any other pages on our site please contact
Godfrey LeBlanc
Box 167 South Ohio, Yarmouth County
Nova Scotia, Canada, B0W 3E0
1-902-742-3845
In subject line of email please type Yarmouth as the first word and topic next. Thank You
Email: webmaster@yarmouth.org