Lake Milo
A Brief History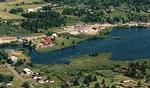 Lake Milo, in Yarmouth, N.S, is a freshwater lake which was named after a man from the United States named George Milo Dutcher. In the 1870s Mr. Dutcher was a temperance worker, invited to Yarmouth for a series of lectures on the evils of alcohol and to induce the Yarmouth people to sign a pledge. He must have made quite an impression because he actually had two lakes named after him: Lake George from which the town gets its water, and Lake Milo in Milton, which is used for recreation and sport. The Indian name for the Milo and surrounding area was "Kespoogwit" which means, "Land's End."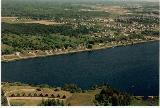 Activities
In the summer months Lake Milo transforms into a popular swimming spot, and if you find that the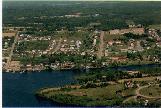 water is too cold you can always rent a canoe or paddle boat from the Milo Boathouse for the day. There are several trained lifeguards on duty most hours of the day in the summer, who supervise the children swimming. Every year the lake is restocked with a fresh supply of fish, so fisherman can enjoy a 'sure catch'. In the winter this lake becomes dormant because the lake hardly ever freezes over enough to skate on; but the few times that it does, everyone has hours and hours of skating enjoyment, playing hockey and other ice games.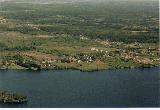 Just seconds away from Lake Milo Boathouse are several apartments available for rent and over-looking this beautiful area. The Boathouse also houses a Youth Club in the winter months. In the fall Canada Geese stop for a meal and a breather before continuing on south for the winter. And whatever you do ......Don't feed the ducks! There have been many complaints about the massive number of ducks in the area and the mess they make in the water. There have been several signs put up to stop people feeding the ducks and to encourage them to move on.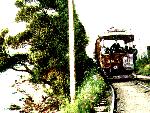 The Yarmouth Trolly used to be a great way of travel for tourists and those who had no car and wanted a cheap way of getting somewhere faster. It used to run right past Lake Milo and went straight into town. As you see in this picture the train was used quite often until it had to be shut down.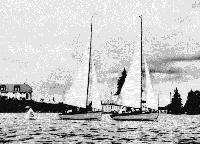 This picture of the two sailing boats was taken on Lake Milo in the early 1900's. These two ships were racing for the Prince of Wales Cup. Sometime Between 1930 and 1990 this race disappeared from our annual festivities at the Lake.

"The two sailboats are Acadian Class sloops.They were designed by William Roue for the DAR who operated the Hotel.There were five of them originally and they continued to be sailed into the late fifties.The "class" of 5 is now extinct.In my youth my dad was active at Milo where we had our own sail and later power boats.I had the opportunity to sail the Acadian Class sloop.It was a bit overbuilt for lake Milo and would have been at home in larger waters even in Salt water.Also the Lake is more than 150 feet wide for most of its length.More like a mile long and a quarter mile wide I think." Comment added by Clifford Hood April 2, 2006
---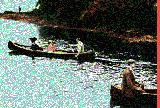 The Lake itself is about 20 ft deep in the middle and about 150 ft wide, making it a safe spot for recreational activities for all ages. Based out of the Lake Milo Aquatic Facilities, north Main Street, Yarmouth, sailing training programs and sailing races are held throughout the summer months. The club has two rental boats available for those who don't own sail boats. In season there are weekly races - Thursdays at 6:00pm and Sundays at 2:00pm. Youth races - Wednesdays at 6:00pm.