Images of Yarmouth County


---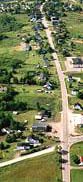 Port Maitland


Port Maitland is a fishing village with a public wharf and provincial beach park.

Port Maitland Provincial Park/Beach is maintained by the Provincial Government and has picnic tables and change houses for your comfort and convenience. The beach itself is a sandy expanse, a mile or so in length. It's a great place for a walk and beachcombing can become a habit.

The Public Wharf is another hub of commercial fishing activity. Two things of particular note here are the tide gates and the light on the end of the wharf. In 1897, a lighthouse of ample proportion was erected at the end of the south wharf. Over the years, the size was changed to where today what you see is a solar light on the end of the north wharf. Lighthouses have become an endangered species!



---



Yarmouth Communities Index

Yarmouth County Tourist Association



---