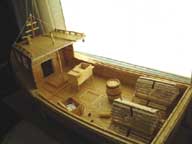 Hello Godfrey--

Here are two photos of a boat made by Mr. Neil Purdy of Rockville. He makes them out of popsicle sticks. The detail is amazing--with the bait barrels and bait bags, gaff hook, etc. He does this as a hobby and has one up in the museum in Digby.
Everyone who has seen them is amazed.

He does this strictly as a hobby in the off season. Thought you might enjoy seeing this local talent.
I had been up twice this year and will be back the end of the month.
I very much enjoyed the pictures of the Broad Brook--and the ones of Sand Beach. I wish I were there and then I could organize a volunteer effort to clean that up. Thank you for having such an informative project for me to learn about. I didn't realize I go by it daily when I am up there.
There is so much I wish I could be doing up there--little projects that could help out. In time. I appreciate your site--especially since you can't listen to CJLS on line any longer.
I still haven't let go of that one--since I think it does much to help the economy of the area by keeping visitors planning to come to Yarmouth and those who are away at school or relocated in touch with the Yarmouth Community.