Rum Running part - 9

27. One old fellow living outside town answered his door one night and was asked if he wanted to make $100. He and the others met at the shore and unloaded kegs of liquor rowed in a dory to shore by two men. Each man carried five kegs to an old model T and the truck was escorted by rum running inspectors riding motorcycles one in front and one in back. The contraband was brought to one of the better homes of town. So extra money was paid to have certain people do favors.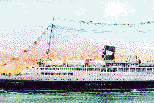 28. Once a truck from the valley came to a local fruit company carrying produce and watermelon. The truck would back up to the rear of the building to be unloaded and while the driver was inside one of the lads would take a watermelon and roll it down the hill to another boy who would catch it and all would fill there bellies.


29. One fellow had a store in town. He had a jar in the front display window that said for the blind. When it was full of money he took it and bought a blind for the front of his store.

30.Another fellow went to his brother's funeral and in his coffin was his money. So he took out his cheque book and wrote a cheque and dropped it in the coffin and took the money.




---
Next Page click here. Previous Page click Here. Go to Home.
---