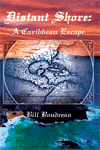 Your site (sights) on the web are wonderful. It brings back memories of where I grew up, many years ago. Please go to site:http://home.flash.net/~antiqdot and click on "Bookstore Links" and the book titled, "Slices," has several stories that are based on my growing up in Wedgeport, Nova Scotia. One of these stories is fishing the great Blue Fin Tuna on the Soldier's Rip, a second story is about an eight-year old boy who goes to Doucette's Wharf to get fresh fish for dinner, and what he sees and does on his way there. A third story is about a family who crosses the Bay of Fundy on the Bluenose, in a terrible storm. Another story, "Confession of a Wanderer" has its setting in the Tuna Wharf coffee shop. And, at this site, you may read poems and ballads about Wedgeport. Also, at this site, the main character of the book titled, "Distant Shore: A Caribbean Escape" was born! and raised in Acadie. Thanks, Bill Boudreau (in Wedgeport known as Billy a Cyriac), Oklahoma City.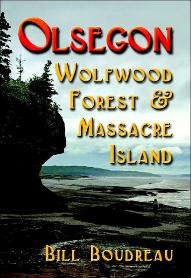 "Olsegon is a two-mystery novel. The Miíkmag called Wedgeport, Olsegon.
On a July afternoon, 1950, Amber Greenís fourteen-month-old boy, Rusty, disappears from his playpen in the yard. A search progresses through mysterious Wolfwood Forest, adjacent to Amberís house. Mark Snipe, sheriff, finds skimpy evidence.
While citizens and the RCMP comb Wolfwood Forest all the way to the cemetery and marsh, Mark and Amberís interaction rekindles memories of their relationship, her failed affairs, and shaky marriage. Pregnant with her older boy, Vincent, fathered by Mark, the nuns eject Amber from school. Drafted, Mark does not know she carries his child. He experiences WWII on Dieppe beach, German prison, solitary confinement, and the death march.
On the second day, Mark connects clues. He guides the parents beyond Wolfwood Forest to an islet where they discover the kidnapper. Amber rescues Rusty, unharmed.
A year later, the rape and murder of teenager Lisa Surette on Fishermenís Island stirs Olsegon. Townsmen and Lisaís parents blame the mystery man who lives on Massacre Island, near Fishermenís Island. Sheriff, Mark Snipe, not convinced and pressured, agrees to seek out the hermit.
War recollections still haunt Mark.
Reported by fishermen, the mystery man disappears on sight. No one knows where he came from.
Amber, divorced, she and Mark are lovers.
On Massacre Island, the sheriff leads four men up a cliff, in a forest, to an embedded marsh, sea cove, into caves where the team discovers skeletons, hieroglyphics, artifacts, who the mystery man is, and who murdered Lisa."
Visit http://www.othershore.org/ to learn more about Olsegon.
ISBN-10 1-60145-037-0
ISBN-13 978-1-60145-037-1