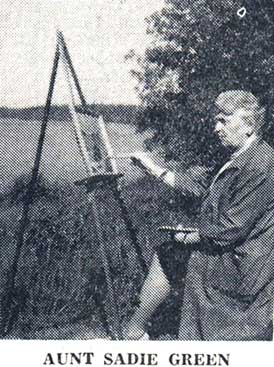 Despite dull weather, Aunt Sadie Green's Retrospective Exhibition and sale of paintings, held at Lake Annis Saturday afternoon, July 24, turned out to be a howling success. More than fifty paintings were sold out of the seventy-six shown.

The paintings were displayed on the lawn of Aunt Sadie's summer cottage, each one standing against a tree or stake along the flower garden.

The subjects of the pictures ranged from flower arrangements to old barns; from still life to seascapes. One of the most popular subjects was Mrs. Green's portrayals of kittens. They were all sold out early in the afternoon and orders for more were taken.

Aunt Sadie, Mrs. George Green, is the former Sadie Cain of Yarmouth, daughter of Captain William A. Cain. She married Capt. George Green in 1905 and sailed around the world with him on the square rigged ship "Carmanian". She spends her winters with her son, George Leslie Green of Bristol, Rhode Island, who is the production manager of the providence journal and Evening Bulletin.

We hope to see more of her work in the years to come.