Know The Face...?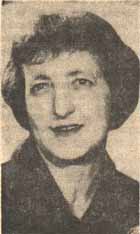 Mrs. Alexander (Isabel) MacAuley is the Only Nova Scotian honored by the Queen with the Dame of Grace of the Order of St. John of Jerusalem. She is the provincial superintendent of nursing divisions of the St. John Ambulance brigade and had worked with the brigade for 22 years.
She is president of the downtown Halifax Business Association, governor of the maritime region of the Soroptimist Federation of the Americas, chairman of the
Employment Conditions Committee of the Halifax Club of Business and Professional Women; corresponding secretary to the Nova Scotia Women's Progressive Conservative Association.
She is board member of the Halifax Coins Club and will be chairman of the hospitality committee of the Canadian Numismatic Convention when it meets in Halifax.
In addition to devoting time to her hobby, she finds time to fulfill obligations of the other positions she holds. She is president of the Nova Scotia Festival of the Arts, member of the Board of Trade, serving on the tourist Committee and was the first and only female Jolly Tar.
She is a member of the Nova Scotia Centennial Committee, a member on APEC and member of the Tourist Sector of the Voluntary Economic Planning Committee. She is a member of St. David's Presbyterian Church.
Mrs. MacAuley, president and manager of the tartan House Ltd, was born in Lake Annis, Yarmouth Co. daughter of Mrs. E. I. Crosby and the late E. I. Crosby. She now resides in Halifax and has two sons.
The Crosbys lived in both No. 25 and No. 18 during their stay in Lake Annis. Ern was the storekeeper for David Saunders, the store being just at the top of the station road.. There is a picture in the picture station, taken from what was then Harry Hamilton's front lawn. Now Willard Hewey's
The following is contributed by Francis Goudey :
Young David Saunders was a Clerk in the clothing store in Yarmouth when he married Emma Redding, and previous to his taking over the mill at Lake Annis which the elder Dave Saunders ran.
Emma Saunders was a Born entertainer, had a fine high soprano voice and was a wonderful mimic. She could make people laugh and she could make them cry, and was the life of many of the earlier Lake Annis gatherings.
One day I went to their house and she was on her knees scrubbing the floor and singing an Irish song. While she worked she put on a regular entertainment.
Return to Site Map
Digitized By Shawn D'Eon