Rum Running part - 5
1930's Rum Running Tales


1. An old lady told me that when she was young, she and her husband and father-in- law would go to a nearby village to get a keg of bootleg rum. On the way back, sitting in the back of the car, the lady placed the keg of rum under her long dress. The police could not check the under garments of a woman. Upon arriving home the rum was evenly distributed into portions.

2. One fellow told me how he would take metal out of a junk yard and sell it to the owner to buy candy. He would then steal it again and resell it to the owner. The junkyard dealer was suspicious of this but could never prove anything.

3. One old fellow bought hides, metal and bottles and would take the hair off the hides and ropes putting the hair in a bag to sell later as he was very stingy.

4. An old bootlegger lived in the lower part of town and had a pig and trained him to follow him through town behind the man like a dog. One fellow who remembers this said he can still hear that pig snort and grunt all the way through town.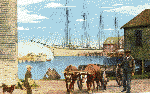 5. Another fellow told me they would take pieces of lead and filled it full of sand and banged the ends of the pipe so the sand wouldn't fall out. They would sell this to the junk dealer and get more money as the pipe was heavier and they could go to the show.


6. One bootlegger had a barn and near the door where he sold booze, was a trained bear (chained). One fellow came in for a drink and the custom was to throw change in a barrel. The fellow tried to take change out of the barrel and the bear went up on his hind feet scaring the fellow so bad the man fainted.




---
Next Page click Here. Previous Page click Here. Go to Home.
---