Starrs Road
Construction: WalMart & SuperStore
Yarmouth, Nova Scotia, Canada
June 1st 2004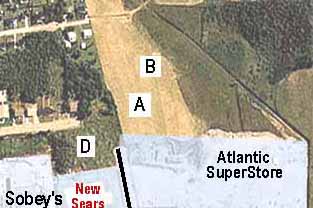 There has been much speculation as to what exactly is happening on the north east end of Starr's Rd. What is going up, when and where. Speculation and rumor has been circulating for years. One thing is for sure something big is in progress. GrassRoutes has talked with various individuals and there are many different stories. We will tell you what we hear. Is it fact or fiction? Well those at the top, it seems, would like to keep it a mystery.
1. Some very heavy power cables are going up to the site.


2. Heavy excavation equipment came on site today. The contractor is from Truro and expects to have his part of the work done in about three weeks. Area (A&B)

| | |
| --- | --- |
| 3. A local contractor is clearing out the land close to Sobey's which can be seen in the background. To the left is where the new Sears building is said to be going. Sobey's is also planning to expand. Some saw it will be expanding into the Bargain Giant's present location but one worker in at Sobey's said it will expand into areas within the store that are not being utilized to their fullest at present. | 4. White tail dear tracks in the soft mud on the construction site. |
Concerns have been expressed over the effects this construction site may have of the ecology of Broad Brook whose watershed starts very close to the area in the picture above. To see it as it was like prior to June 1st 2004 go to our Broad Brook link.
Add Your Comments:
If you would like to add information or comments to this site email webmaster@yarmouth.org. In the subject line please put Yarmouth: Walmart. We will create a comment page that will air your comments, concerns, predictions, etc. Your concerns over Broad Brook are also welcome.
2004 Index
GrassRoutes Internet
Return to Villages of Yarmouth County