Home

Sears of Yarmouth
Construction record August 6th 2004
Link to Walmart construction project
Click on picture for enlargement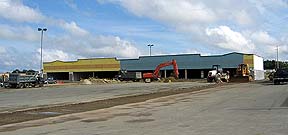 The new Sears building site.
Large rounded rock unearthed on site.
If this formed by tumbling in a river.
It was one big river.
Front side view of mini mall.

Back view of Sears building
Back of Sears over looking lower parking lot

Upper parking lot behind Sears
This seams a large parking area
for exit into the rear of a building?
Spaces being occupied.
Sears, Le chateau, Cleve's, Mark's Work Wearhouse, Miss Teen, Movie Gallery, & Things, Engraved

Search for the Toulon Dev. Corp on the internet only a few 22 hits Links
one interesting one was: Toulon Development Corporation Ltd. v. McMahon Essaim Inc. Item #2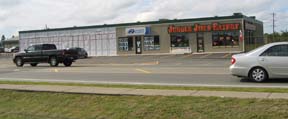 Jungle Jim's across from Sears. Speculation? It also contains available retail space.
August 2004:
Construction on the Sears site is going well. It is good to see things happening in the area.