-community business-
Since this page was setup some of the business listed may now be closed.
The village of Carleton is small and rural, and the businesses of the area have the same rural, community-based feeling. Among these businesses are the Carleton Country Outfitters, Country Leather Creations, Bernie Miller's garage, and a restaurant named the "Bavaria" that specializes in German and Canadian cuisine.
---
Country Leather Creations
"Country Leather Creations" is located on the Perry Road, just off highway 203 in Carleton. It specializes in all things leather, including dresses, handbags, etc. To see more of this business, and peruse the on-line catalogue, please see the webpage for Country Leather Creations.

---
Carleton Country Outfitters
The Carleton Country Outfitters looks, at first glance, like a community lodge placed at the entrance to the village proper; almost as a welcome to those coming in from the town. Always decorated according to season, it can be seen layered with cornucopia and homemade scarecrows in the fall, decked with holly and lights near Christmas, or maybe just a hammock strung out in all its summer time glory for all to see, and perhaps buy.

Inside, all the supplies of a camper can be found; ranging from fishing lures of all colours and sizes, boots and hunting camouflage, assorted edibles and a plethora of other country needs. The Outfitters is open 7:00am to 9:00pm, Monday to Saturday, and 9:00am to 8:00pm on Sunday. You can reach them at 761 - 3000.

But the Outfitters is more than a store. At different times of the day, people of the community meet there; sometimes just to talk, sometimes to grab a bite to eat and play a round of cards at the tables placed throughout the building.
---
The Bavaria Restaurant & Country Inn
Unfortunately the Bavaria is now closed. Thank you for all the great meals we had there.
Located atop a small hill above the Carleton River sits The Bavaria, Carleton's premier restaurant. The two owners, Mr. and Mrs. Wagner, specialize in both Canadian and (primarily) German cuisine.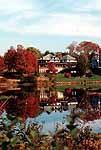 The decor is beautiful, with an astounding view of the Carleton River emptying into a larger body of water. The inside surroundings are wonderfully lit to reveal old paintings, ships in bottles, and most prominently a series of long ivy vines that crawl from their pots across the whole ceiling. Taking the whole setting in as you eat is very reminiscent of a building you may imagine finding in Germany some time ago.
Open year round, The Bavaria offers a varied menu including basic meat-and-potatoe dishes, schnitzels, rich cappachino, exotic desserts and everything in between. If visiting Carleton, this is one place one should consider visiting.

---
Marie-Anne's Place
On top of the hill that is also home to the Durkee Memorial Library, Cenotaph and Bernie Miller's Garage is one of the newest businesses in Carleton, the Carleton coin laundromat called "Marie-Anne's Place", run by Marie-Anne Miller.

Being a small laundromat, it can only house a handful of washing machines and dryers, but considering the small population of Carleton, it gets the job done nicely; especially for the visiting camper who only has a small bundle of clothes to do after a few days of rest in a cottage.

---
DJ's Used Clothing and Crafts
One place of business in Yarmouth that has always been active is the lot of land that is just before the Carleton bridge. First a local store, then an arcade for a short period of time, it is now a used clothing and crafts store, most active in the Summer months ( it is open seasonally ). The phone number for DJ's is 761 - 3212.
---
Bernie Miller's Garage
The most accessible mechanic in Carleton, Bernie Miller's Garage can be found next to the Durkee Memorial Library and directly across from Marie-Anne's Place laundromat. Even though the garage mainly deals with repair of vehicles, he also sells refurbished cars and trucks. Any questions? call 761 - 2770.

---
Gary Allen's Excavating
Right in the midst of Carleton, on 71 Triangle Road, is the excavating business of Gary Allen's. Providing gravel and fill, digging wells or cleaning septic tanks, the business offers all the services any excavator would. For more information, call them at 761 - 2313.

---
Maritime Coatings
A local Benjamin Moore dealer, Maritime Coatings offers paints, brushes and other accessories for painting. The proprietor is Gregory Dean, who can be contacted at 761 - 2795.

---
James Allen's Used Cars
In the business of refurbishing and selling cars, Mr. Allen's workplace is located side-by-side with DJ's Used Clothing. He can be reached at 761 - 2690.
---
David White Construction
Offering carpentry of all types, Mr. White's services are not limited to just Carleton, but in all the surrounding areas, even unto the Town of Yarmouth. Based out of the Kelly road in Carleton, inquiries can be phoned in at 761 - 2096.

---